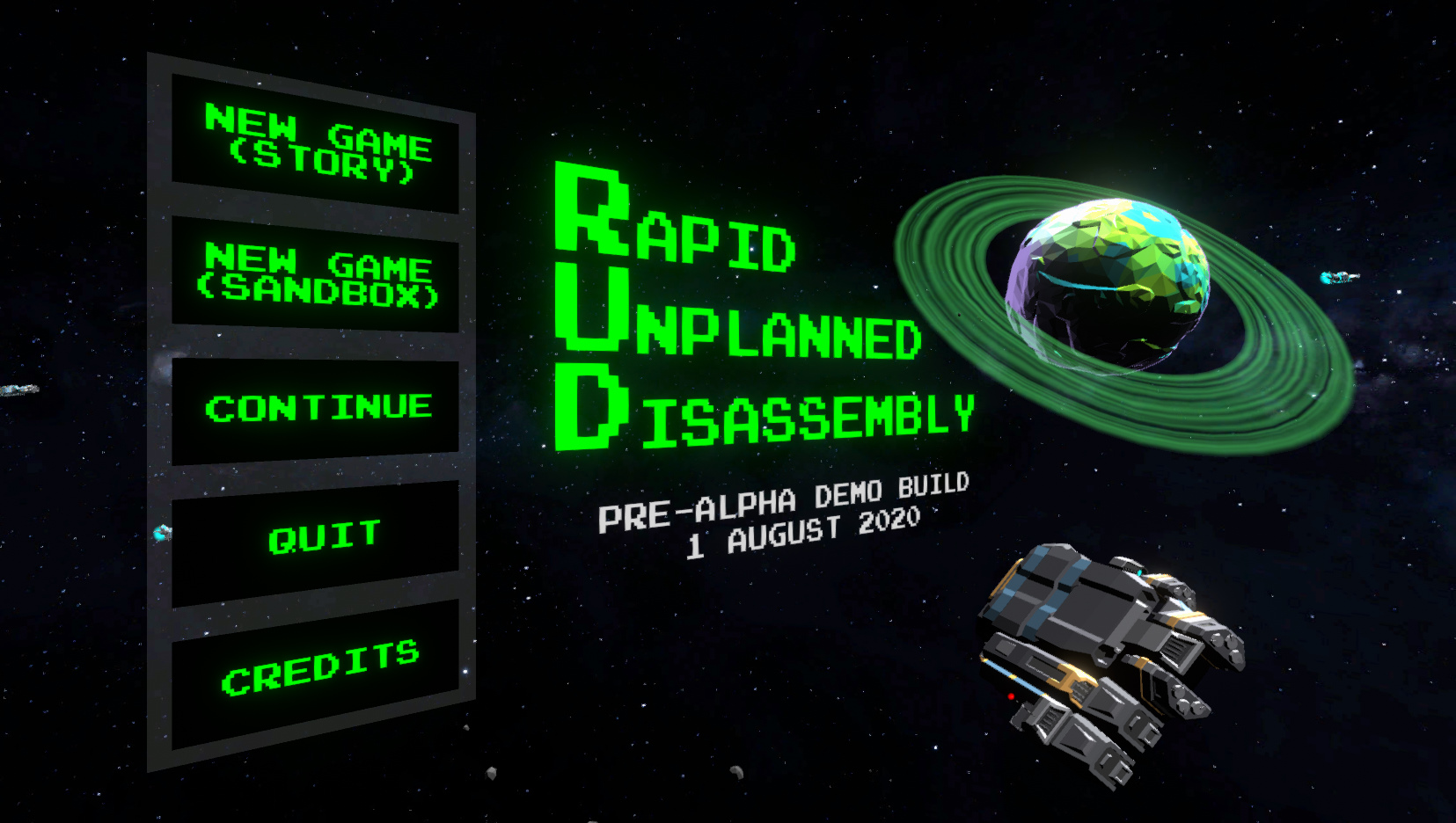 Rapid Unplanned Disassembly
R.U.D. Changelog 7 August 2020
---
### RAPID UNPLANNED DISASSEMBLY
### R.U.D.
### CHANGELOG 7 AUGUST 2020
Thanks for downloading the pre-alpha demo of RUD!
Below are details of the changes since the last build. If you'd like to submit a bug report or suggest a feature, you can do so on the community Trello board (until I figure out something better). Click here: https://trello.com/b/2Xufxfs9/rud
## CHANGELOG
# ADDITIONS
Added Bounty Hunting system - misdeeds will cause NPCs (and the player) to accrue a bounty and attract bounty hunters. Recovered flight recorders ('black boxes') can be exchanged for bounties at stations with bounty boards (bounties for individuals may vary from station to station).
Ships will now hunt down other ships who they perceive to have wronged them.
Added extra external visual effects for players who like looking out the window.
Added mouse sensitivity slider in escape menu.
Added smoke effect to burnt-out fuses.
Added icons to trade program commodity buttons.
Extended NPC comms responses a bit.
# CHANGES
Re-added ship's AI voice lines with extra lines for autopilot and navigation alerts.
Player now smoothly slides along walls instead of coming to a stop on collision.
Improved the sound quality of the custom music player
TuneWiz Pro will now display the filename of the MP3 if metadata can't be read.
Custom music now abides by music volume setting.
Tweaked max speed of ships and torpedoes to promote a comfier atmosphere.
Tweaked physics to make basketball a bit easier.
Grabbing an object now teleports it to a set distance in front of you, Skyrim-style.
Tweaked navigation to be a bit more responsive and clear.
You can now zoom in a bit further on the map (needs more work).
Pirates may now engage in piracy even in non-pirate-controlled sectors.
Reactor now starts at full power - efficiency is reduced alongside hull damage.
# FIXES
Fixed an issue where components were breaking far too frequently.
Attempted to fix an issue with multiple monitors where the cursor would pass outside the game window while locked.
Thanks for playing!
Files
RUD-windows-v0.31.zip
93 MB
Aug 07, 2020
RUD-linux-v0.31.zip
102 MB
Aug 07, 2020
Get Rapid Unplanned Disassembly